OUR HISTORY
VISION & MISSION
MANAGEMENT TEAM
OUR HISTORY
Aquatech Formulations is promoted by a field of experienced and leading entrepreneurs and also by the promoters of M/S Aquatech Formulations, Pothyreddypalem Village in Nellore Dist which has been an exceptional aquaculture healthcare products manufacturer since 2010.
Aquatech Formulations is a company set-up to provide aquaculture healthcare formulations and has been proving its merit for more than a decade in India . Being promoted by such a pioneering company as Aquatech Formulations Formulations is the pillar of strength for Aquatech Formulations Feed Supplements.
The first unit of Aquatech Formulations includes latest technology in the manufacturing process and has an installation capacity. This unit began its commercial production in 2010 with automation of the entire processes from batching to bagging.
This unit is well equipped to produce shrimp feed supplements and other aqua feed supplements of high value.
VISION AND MISSION
We at 'Aquatech Formulations' are committed to sound business practices to ensure world-class product quality. We have been consistent in fetching top-notch results, for the aqua-farmers.
The name 'Aquatech' was coined to help the aqua farming community to grow well. We do not compromise on quality and we ensure that products are delivered on time.
We have witnessed that our continuous research and development has resulted in high quality products ever since we started.
MILESTONES:
Our milestones testify the success of the journey of our mission.
Aquatech Formulations Feed Supplements becomes one of the pioneers in introducing extruded floating fish feed supplements after identifying its potential in 2010.
The market base is fast growing and Aquatech Formulations Feed Supplements expands its production capacity
Aquatech Formulations Feed Supplements begins construction of its new feed mill for shrimp feeds and high value aqua feeds
The completion of unit 2 marks the beginning of commercial production of shrimp feed supplements and high value aqua feed supplements
MANAGEMENT TEAM
Ch. Suresh Babu
Chairman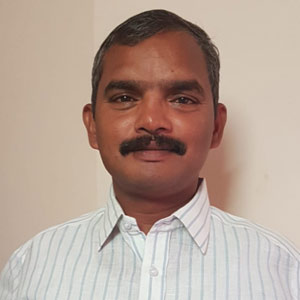 The chairman of the company His 20 years of industrial experience in R&D, manufacturing and marketing areas in feed supplement & probitics Companies in India makes him an indomitable spirit of inspiration to look at. His formulations manufacturing company, started in 2010, has added many formulations to his credit. As one of the pioneers in the formulation of poultry and aqua health care products, he started the Aquatech Formulations in 2010. With more than 10 years of post-qualification experience, he remains to be a guiding factor for the group and actively takes part in the operations.