Feed Supplements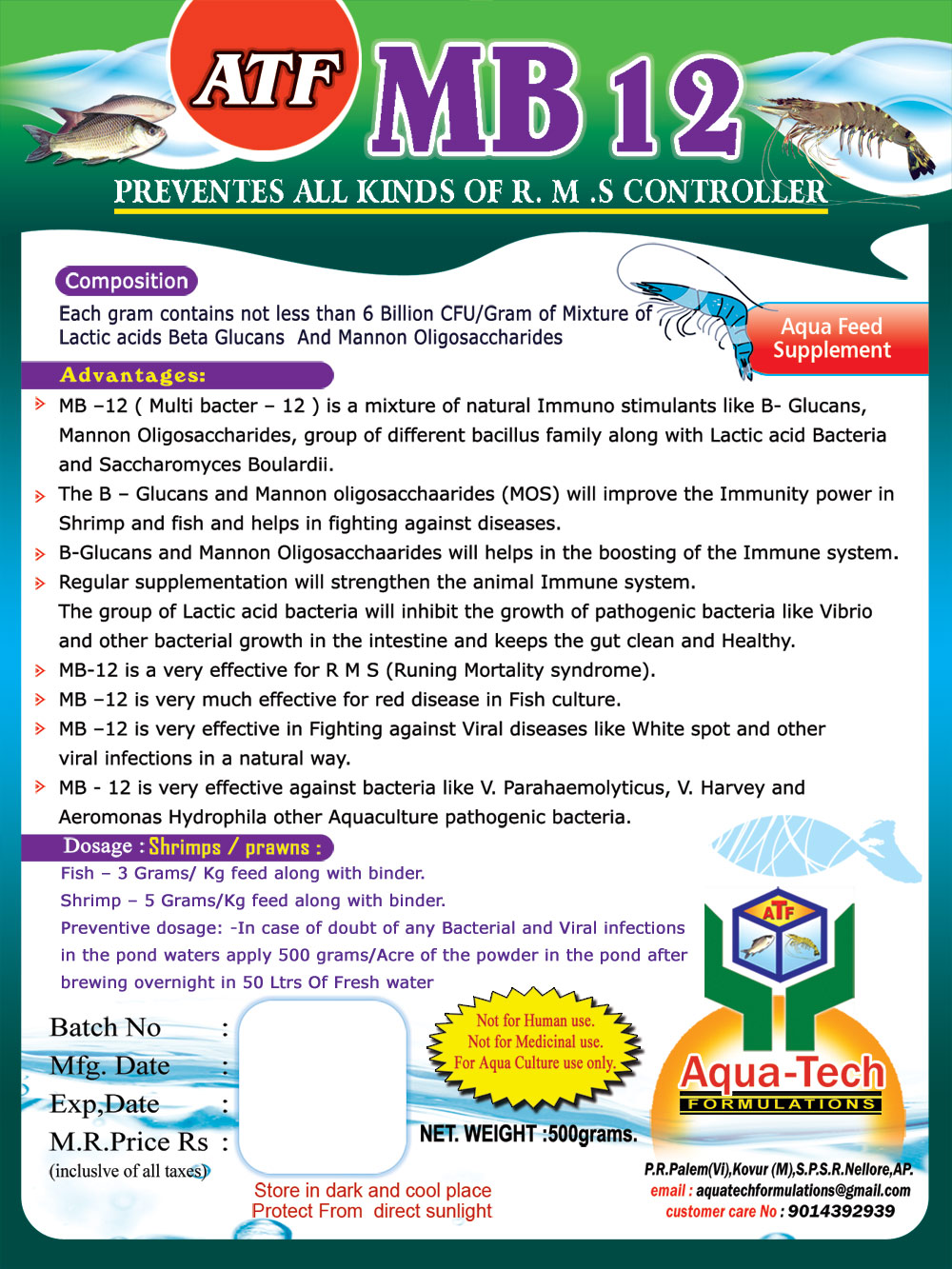 Composition :
Each gram contains not less than 6 Billion CFU/Gram of Mixture of Lactic acids Beta Glucans And Mannon Oligosaccharides
Dosage: Shrimps /Prawns
Fish - 3 Grams/ Kg feed along with binder.
Shrimp - 5 Grams/Kg feed along with binder.
Preventive dosage: -In case of doubt of any Bacterial and Viral infections in the pond waters apply 500 grams/Acer of the powder in the pond after brewing overnight in 50 Ltrs Of Fresh water
Advantages

MB -12 ( Multi bacter - 12 ) is a mixture of natural Immuno stimulants like B- Glucans, Mannon Oligosaccharides, group of different bacillus family along with Lactic acid Bacteria and Saccharomyces Boulardii.

The B - Glucans and Mannon oligosacchaarides (MOS) will improve the Immunity power in Shrimp and fish and helps in fighting against diseases.

B-Glucans and Mannon Oligosacchaarides will helps in the boosting of the Immune system. Regular supplementation will strengthen the animal Immune system.

The group of Lactic acid bacteria will inhibit the growth of pathogenic bacteria like Vibrio and other bacterial growth in the intestine and keeps the gut clean and Healthy.

MB-12 is a very effective for R M S (Runing Mortality syndrome).

MB -12 is very much effective for red disease in Fish culture.

MB -12 is very effective in Fighting against Viral diseases like White spot and other viral infections in a natural way.

MB - 12 is very effective against bacteria like V. Parahaemolyticus, V. Harvey and Aeromonas Hydrophila other Aquaculture pathogenic bacteria.